6 Ways to Grow Your Business With Content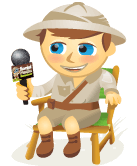 Are you wondering why your business needs content? When you produce high-quality content, it's a gift to your audience that they appreciate.
If you think of your business as a rocket, content is the fuel that moves it forward. Be sure to watch this edition of Social Media Examiner TV where I'll share
6 effective ways to grow your business with content and take it to the stratosphere
.
Primary Fuel
This is the content you produce regularly to
attract people to your business
. Here are some different types of primary fuel:
#1: How-to articles
How-to articles, such as
21 Creative Ways to Increase Your Facebook Fanbase
, are great resources for your readers. Be sure to
provide details, give screenshots to illustrate things clearly
and tell people exactly what to do. This way, your audience will want to share your content.
#2: Expert interviews
The right experts have valuable content for your audience. One example of this on Social Media Examiner is
my interview with Guy Kawasaki
.
Remember to both record and transcribe your interview
to share it in multiple formats with your audience.
#3: Case studies
Share stories of the people who are doing great things in your industry
. Have a look at the story of
Logos Bible Software
we recently published.
#4: Breaking news
Your audience appreciates good sources of breaking news. Think about doing a
weekly wrap-up
of the hot news of the week like we do on Social Media Examiner.
To finish reading this article, please visit the Social Media Examiner's website at:
http://www.socialmediaexaminer.com/6-ways-to-grow-your-business-with-content/